2022 was not a great year for semiconductor companies because of supply chain issues and decreasing demand. While the semiconductor industry is experiencing a slowdown, Qualcomm was unaffected due to its diversification in untapped markets such as the Internet of Things (IoT) chips. In today's FA Alpha, we will examine Qualcomm's diversification and why it is a great stock to buy because of its turnaround opportunity.

FA Alpha Daily:
Tuesday Company Specific
Powered by Valens Research
The overall semiconductor market was crushed due to a rapid cycle slowdown last year.
The biggest end markets for semiconductor producers are mobile phones and computers, which have not been promising in the last years.
Mobile phone sales have fallen from 1.43 billion units in 2021 to 1.4 billion units in 2022. Shipments are projected to fall another 4% in 2023. Computer sales follow a similar trend.
As a result, the industry lost 30% of its total market cap in 2022.
However, this does not mean there were no opportunities in the space, as the industry is not only serving consumer products.
One name we follow closely is Qualcomm (QCOM), which we featured this month on the FA Alpha 50. It is also in our Conviction Long List ("CLL") portfolio.
It is not only because we think the semiconductor space may finally be showing signs of bottoming.
Qualcomm has some impressive tailwinds that other manufacturers do not have. This is why it never got as bad as everyone else.
The company used to produce chips for mobile phones as a lot of other companies do. However, that has changed.
Now, it produces incredible technologies for the wireless industry, supporting 5G, voice and data communications, networking, and application processing.
As internet of things ("IoT") technologies widen and we need more bandwidth in time, the company recognizes increasing demand for its products.
We are seeing investments ramping up in this space and paving the way for the IoT Capex Supercycle. Qualcomm is positioned strongly to be a major supplier, which will collect all the Capex spending.
As a lot of the other names in the semiconductor space lost profitability as a result of the slowdown in the market, Qualcomm stood strong.
In fact, it managed to increase its return on assets ("ROA") from below 13% in 2019 to 40% in 2022, with immense growth.
However, the market seems biased about the name because it is a semiconductor name.
It trades at a price-to-earnings ("P/E") of only 14.5x, which shows that investors think the demand for its products will decline as it has for mobile phone chip makers.
As investments in data and IoT continue in upcoming years, Qualcomm will continue to benefit and have high profitability.
Markets' misunderstanding of the sustainability of high profitability and high growth potential means that Qualcomm is a great FA Alpha 50 name.
Throughout financial market history, many of the world's most successful investors have been candid in their belief that Generally Accepted Accounting Principles ("GAAP") distort economic reality.
Warren Buffett, for example, once said investors should "concentrate on the world of companies, not arcane accounting mathematics."
Investors who neglect the very real issues with as-reported accounting can find themselves caught up in investing with the crowd, blindly following hot "themes" without a thorough grasp of how to understand the businesses in question.
The only true way to focus on the "world of companies," as Buffett suggests investors do, is to present a clear picture of how a business operates, something that can only be done by adjusting financial statements to reflect the arbitrary nature of certain accounting rules that leave much to discretion.
The world's best investors understand the need to make these adjustments, which allows them to focus not on picking out the most popular companies but rather on looking for great names in sleepy areas that the market isn't paying much attention to. From there, the goal is to then identify quality companies with significant growth potential at reasonable prices.
That's exactly what we've set out to do with the FA Alpha, our monthly list of 50 companies that rank at the top for quality, high growth, and low valuations.
This list has outperformed the market by 300 basis points per year for over 20 years now, effectively doubling the performance of the market by focusing on the real fundamentals and valuations of companies with our proprietary Uniform Accounting framework.
See for yourself below.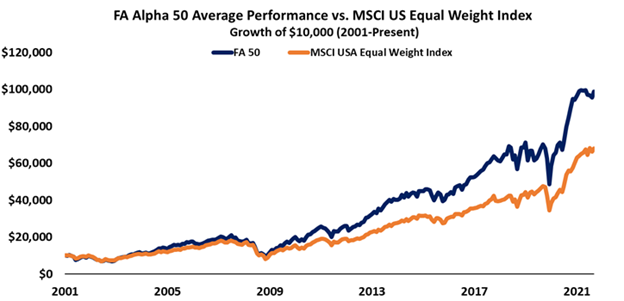 To see the other 49 names on the list, click here.
Best regards,

Joel Litman & Rob Spivey

Chief Investment Strategist &
Director of Research
at Valens Research

Today's highlight, Qualcomm Incorporated (QCOM) is one of the top stock picks from FA Alpha 50 this month. To see more stock picks like this, become an FA Alpha and get access to FA Alpha 50.