Horizon Therapeutics (HZNP) is a leading therapeutic company. Prior to their success, the firm acquired and licensed drugs. The most profitable one so far is KRYSTEXXA, an orphan treatment for uncontrolled gut. In today's FA Alpha, we will see how the company has seen its profitability skyrocket through our FA Alpha Screen.

FA Alpha Daily:
Tuesday Company Specific
Powered by Valens Research


We are used to seeing companies we have highlighted as FA Alpha names gaining attention. It was not a shocker this time either.
However, this time, not only the stock market but also other players in the space have realized the opportunity.
We are talking about Horizon Therapeutics (HZNP), a biotech company we highlighted in November.
The company is a leading therapeutics company specializing in rare autoimmune and severe inflammatory diseases. These are areas with plenty of patients with unmet needs.
The firm had repeatedly acquired and licensed drugs before they took off. One of the most profitable ones so far has been KRYSTEXXA, an orphan treatment for uncontrolled gut. Horizon quickly scaled this $60 million a year business to $500+ million a year.
However, the real cash generator was TEPEZZA, a thyroid eye disease medication. That was one of the most successful rare disease medicines launches ever.
Being the only medication approved for the condition, it has become a $1.6 billion business and is on track to reach $3.5 billion.
The company has seen its profitability skyrocket with these treatments, with Uniform return on assets ("ROA") surging to 73% in 2020 and dropping slightly to 67% in 2021.
Only a month after we highlighted the company, it has been a target of a bidding war from big players in the space, such as Amgen (AMGN), Sanofi (ENXTPA:SAN), and Johnson & Johnson (JNJ).
These players see the opportunity in Horizon's assets and how they drive high ROA and high growth. As the market was not paying attention, the industry peers pounced to capture the chance.
As a result, the stock price jumped from around $65 in October to above $110 just in two months.
The market capitalization is still lower than the $28 billion Amgen offered to acquire the company, and shareholders are going to realize more upside if the deal goes through.
This scenario is exactly the kind of thing that can happen for the type of names we are finding in the FA Alpha 50.
Throughout financial market history, many of the world's most successful investors have been candid in their belief that Generally Accepted Accounting Principles ("GAAP") distort economic reality.
Warren Buffett, for example, once said investors should "concentrate on the world of companies, not arcane accounting mathematics."
Investors who neglect the very real issues with as-reported accounting can find themselves caught up in investing with the crowd, blindly following hot "themes" without a thorough grasp of how to understand the businesses in question.
The only true way to focus on the "world of companies," as Buffett suggests investors do, is to present a clear picture of how a business operates, something that can only be done by adjusting financial statements to reflect the arbitrary nature of certain accounting rules that leave much to discretion.
The world's best investors understand the need to make these adjustments, which allows them to focus not on picking out the most popular companies but rather on looking for great names in sleepy areas that the market isn't paying much attention to. From there, the goal is to then identify quality companies with significant growth potential at reasonable prices.
That's exactly what we've set out to do with the FA Alpha, our monthly list of 50 companies that rank at the top for quality, high growth, and low valuations.
This list has outperformed the market by 300 basis points per year for over 20 years now, effectively doubling the performance of the market by focusing on the real fundamentals and valuations of companies with our proprietary Uniform Accounting framework.
See for yourself below.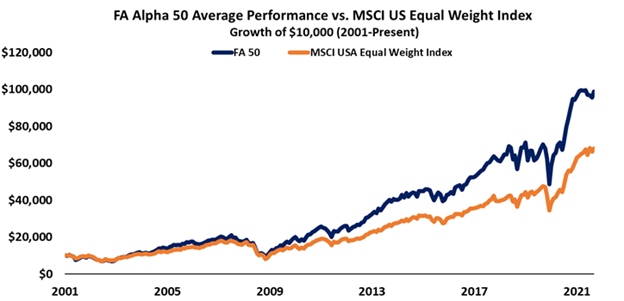 To see the other 49 names on the list, click here.
Best regards,


Joel Litman & Rob Spivey

Chief Investment Strategist &
Director of Research
at Valens Research

Today's highlight, Therapeutics Public Limited Company (HZNP) is one of the top stock picks from FA Alpha 50 this month. To see more stock picks like this, become an FA Alpha and get access to FA Alpha 50.