With the onslaught of supply chain disruptions, businesses found shelter in logistics firms to handle their goods' management, shipping, and customs process. Today's FA Alpha Daily will examine Expeditors International of Washington, Inc. (EXPD), a key player in the logistics industry, to see if it has sailed into profitable docks.

FA Alpha Daily:
Tuesday Company Specific
Powered by Valens Research


For months now, the global supply chain has been all out of sorts. Capacity is squeezed, and companies simply cannot get their hands on the products and materials they need.
Store aisles are empty of vital products like baby formula, and shipment delays have become the norm. Inventory levels are low, and consumers want to buy more than what's available.
This struggling supply chain has led many companies to search for ways to improve their woes.
To help ease their supply chain constraints, companies turn to logistic firms like Expeditors International of Washington (EXPD) for assistance.
Expeditors International helps with the management of shipments, processing goods through customs, arranging inspections, and overall smoothing out the supply chain process.
But instead of owning its own aircraft or ships like some other logistic companies, it purchases bulk freight space from both airlines and ocean shipping lines that it then sells to customers. This makes it much more asset-light than many other shipping companies.
As-reported metrics make it seem return on assets ("ROA") improved from 14% levels in 2019-2020 to 19% in 2021, as more customers turn to the firm for supply chain solutions.
While as-reported metrics show us that Expeditors International has seen improvement in 2021, it underestimates the true profitability of the firm.
In reality, Expeditors International has seen robust and steady profitability for a while now, sitting above 20% levels each year since 2006, except for a slight underperformance in 2009.
But as supply chain issues have gotten worse, it's seen an even greater surge than as-reported metrics make it appear.
Uniform ROA recently improved from 25%-26% levels in 2019-2020 to 31% in 2021, which is an all-time high for the company.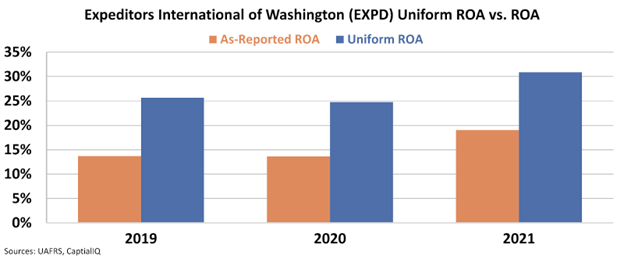 With Uniform Accounting, we can see the true strength of Expeditors International's profitability and its important role in helping firms navigate the rough supply chain conditions.
This ROA is even more impressive considering the firm saw its highest asset growth in the same year, at 45% in 2021.
Yet the market seems to be missing all this, as it's pricing Expeditors International at a bargain 14.6x Uniform P/E.
As-reported metrics hide Expeditors International's strong ROA, which combined with its explosive growth in 2021 and low valuations today, makes it a compelling company and an interesting FA Alpha 50 name.
Throughout financial market history, many of the world's most successful investors have been candid in their belief that Generally Accepted Accounting Principles ("GAAP") distort economic reality.
Warren Buffett, for example, once said investors should "concentrate on the world of companies, not arcane accounting mathematics."
Investors who neglect the very real issues with as-reported accounting can find themselves caught up investing with the crowd, blindly following hot "themes" without a thorough grasp of how to understand the businesses in question.
The only true way to focus on the "world of companies," as Buffett suggests investors do, is to present a clear picture of how a business operates, something that can only be done by adjusting financial statements to reflect the arbitrary nature of certain accounting rules that leave much to discretion.
The world's best investors understand the need to make these adjustments, which allows them to focus not on picking out the most popular companies, but rather on looking for great names in sleepy areas that the market isn't paying much attention to. From there, the goal is to then identify quality companies with significant growth potential at reasonable prices.
That's exactly what we've set out to do with the FA Alpha, our monthly list of 50 companies that rank at the top for quality, high growth, and low valuations.
This list has outperformed the market by 300 basis points per year for over 20 years now, effectively doubling the performance of the market by focusing on the real fundamentals and valuations of companies with our proprietary Uniform Accounting framework.
See for yourself below.
To see the other 49 names on the list, click here.


Best regards,

Joel Litman & Rob Spivey

Chief Investment Strategist &
Director of Research
at Valens Research

Today's highlight, Expeditors International of Washington, Inc. (EXPD) is one of the top stock picks from FA Alpha 50 this month. To see more stock picks like this, get access to FA Alpha 50.