As the Fed increases interest rates to control rising inflation, mortgage rates increase consequently. This has a negative knock-on impact on Builders FirstSource (BLDR), one of the bigger players in the housing-adjacent market. While the company's as-reported metrics may make investors skeptical of its ability to take on macroeconomic headwinds, today's FA Alpha Daily will examine the company's actual performance.
FA Alpha Daily:
Tuesday Company Specific
Powered by Valens Research
After the huge run over the last two years, many fear the housing market is ready for a major correction.
According to the Federal Housing Finance Agency ("FHFA") House Price Index report, home prices were up 19% from 2021 to 2022.
However, this cannot go on forever. High inflation caused the Fed to react more aggressively, leading to raising rates. This has directly led to higher mortgage rates, constricting demand for new homes.
This has a knock-on impact on the rest of the housing-adjacent market as well. As renovations and touch-ups are often driven by those who recently have moved in, or are looking to raise a selling price, renovations could fall as well.
One of the bigger players in the housing-adjacent market is Builders FirstSource (BLDR). The company manufactures various important materials for building and renovating homes such as factory-built roof and floor trusses, wall panels, windows, and other structural products.
The business description alone is enough to understand how the company could be affected negatively by rising mortgage rates.
Looking at the as-reported metrics, investors may be skeptical of Builders FirstSource's ability to take on macroeconomic headwinds.
The as-reported return on assets ("ROA") of the company has been 15% for three years from 2018 to 2020. In 2021, the company managed to use the At Home Revolution to its benefit and boosted its as-reported ROA to 20%, a level not seen in the last decade.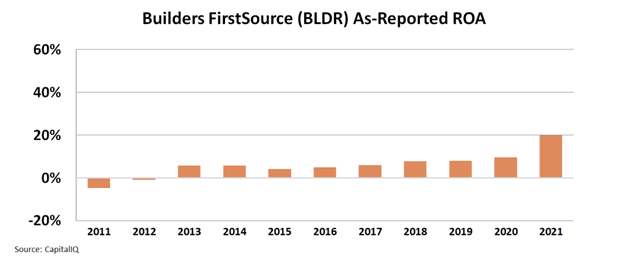 Even if it seems like the company has successfully improved its profitability during Covid-19, investors would hope for returns above the corporate average of 12% in good years, before any potential bad times.
However, this picture of profitability is incorrect due to distortions in as-reported accounting. To have a clearer picture, they can be fixed by making over 130 adjustments needed under Uniform Accounting.
The reality is that the company already had a Uniform ROA of 17% before the At Home Revolution and it jumped to a booming 51% in 2021.
Uniform metrics show that the company is making so much money thanks to strong demand even in normal times, along with its huge returns during the recent upsurge in renovations. Thanks to the company's competitive moat, it has earnings premium returns well before 2021.
Investors using as-reported accounting would totally miss how compelling this business is, instead being concerned about the macroeconomic headwinds this company may face.
This helps explain why the company has a rock bottom Uniform P/E at 7.6x, despite having such strong returns. High quality, consistent growth, and attractive valuations make Builders FirstSource a compelling FA Alpha 50 name.
Throughout financial market history, many of the world's most successful investors have been candid in their belief that Generally Accepted Accounting Principles ("GAAP") distort economic reality.
Warren Buffett, for example, once said investors should "concentrate on the world of companies, not arcane accounting mathematics."
Investors who neglect the very real issues with as-reported accounting can find themselves caught up investing with the crowd, blindly following hot "themes" without a thorough grasp of how to understand the businesses in question.
The only true way to focus on the "world of companies," as Buffett suggests investors do, is to present a clear picture of how a business operates, something that can only be done by adjusting financial statements to reflect the arbitrary nature of certain accounting rules that leave much to discretion.
The world's best investors understand the need to make these adjustments, which allows them to focus not on picking out the most popular companies, but rather on looking for great names in sleepy areas that the market isn't paying much attention to. From there, the goal is to then identify quality companies with significant growth potential at reasonable prices.
That's exactly what we've set out to do with the FA Alpha, our monthly list of 50 companies that rank at the top for quality, high growth, and low valuations.
This list has outperformed the market by 300 basis points per year for over 20 years now, effectively doubling the performance of the market by focusing on the real fundamentals and valuations of companies with our proprietary Uniform Accounting framework.
See for yourself below.
To see the other 49 names on the list, click here.
Best regards,

Joel Litman & Rob Spivey

Chief Investment Strategist &
Director of Research
at Valens Research
Today's highlight, Builders FirstSource (BLDR) is one of the top stock picks from FA Alpha 50 this month. To see more stock picks like this, get access to FA Alpha 50.